SEE OUR WEBSITE FOR A COMPLETE LIST OF INGREDIENTS THIS DETERGENT IS FREE FROM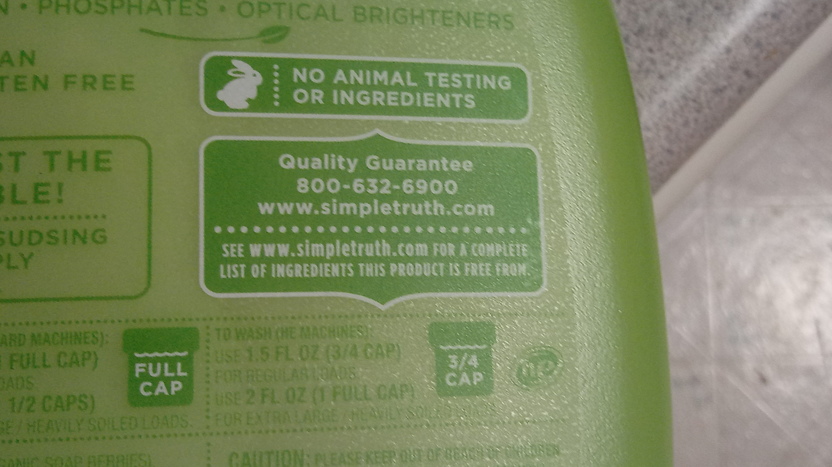 Sodium sulfite
Potassium orthotrisulfite
Sulfites, both imaginary and real
Trans fatty acids
Cis, Hetero-normative fatty acids
Guar gum
Gwar
Antibiotics
Probiotics
Artificial colors (Synthetic and FD&C Certified)
Decertified team colors
Aspartame
Tame bears
Astaxanthin, acceptable in supplements, if natural
what?
Autolyzed yeast extract
awk
sed
grep
Bentonite (acceptable in supplements)
Supplement to the proceedings of the Council of Benton County
BHA (butylated hydroxyanisole)
anise
heh.
Brominated flour
Bleached flour
Bleached hair
Bleached bones of my defeated enemies
Red №5
Mambo №9
Brominated vegetable oil (BVO)
Bachman Turner Overdrive (BTO)
Calcium peroxide
Calcium sorbate
Tums©
Caprocaprylobehenin
Capybara
Nutria
Opossum opossum
Cochineal
Coachella
Burning Man
Burning sensation
Last week's sensation
Spilt milk
A pinch of salt
Cyclamates
Weevil
Weasel
Rat bastard got away with it
Chervil
Parsley, Sage, Rosemary
Timothy (ambiguous)
Dimethylpolysiloxane
Tears. Wait, René used to work in production; she says there are lots of tears.
Ennui. Definitely no ennui.
Dioctyl sodium sulfosuccinate
heh.
Ester gums
Esther Williams
Ethanol, ethyl alcohol, except that which is used as a natural flavor carrier.
ah, ha-ha-ha-ha-ha. No, really.
Ethyl vanillin
Vanilla Ice
Glycerol ester of wood rosin
Violin bows
Hexa-, hepta- and octa-esters of sucrose
Giga-mega-maxi-flop
High-fructose corn syrup
Modified food starch (acceptable if not chemically modified)
Shame (acceptable if not modified by self-deceit)
Neoteny
Axolotl
Oysters
Parabens
Brace-o'-Jakes
Partially hydrogenated oil
Sequentially decomposed functions
Scalar multiplication of matrices
The identity operation
Potassium sorbate (acceptable in supplements only)
20/20 vision (acceptible in hindsight)
A sense of propriety
Potassium nitrate or nitrite
Or whatever. I'm no chemist.
Fortunella spp.
Suicidal Kings
Carrots
Saccharin
Treacle
Simplesse
Noblesse oblige
Sodium aluminum phosphate
Solvent extracted oils, as stand-alone, single-ingredient oils (except grapeseed oil)
Way to be cagey, there.
An unknown strict sub-set of things in Heaven and Earth that have been dreamt of in Horatio's philosophy
More things than that
{ X | X ∉ { the set of things contained in this laundry detergent } }